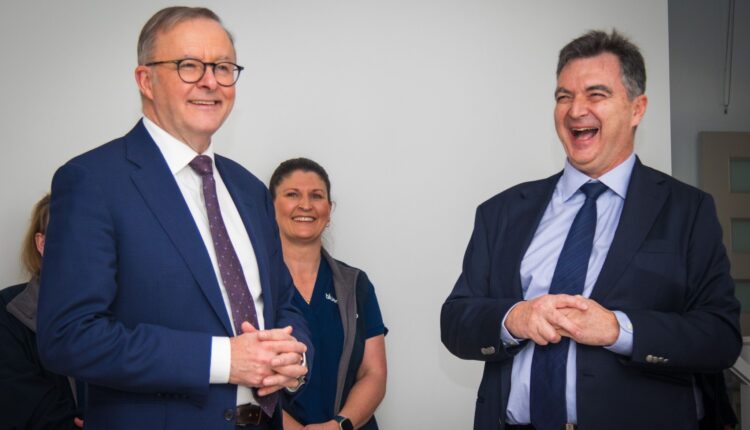 Celebrating 135 Affordable Homes Built in Jordan Springs and Ropes Crossing
BlueCHP was delighted to welcome Prime Minister Anthony Albanese, Minister Julie Collins, and Minister Rose Jackson to mark the milestone of their 135th affordable home built in Jordan Springs and Ropes Crossing, as part of the St Mary's ADI project recently. These homes have been delivered in partnership with Lendlease, the NSW Department of Communities and Justice, and further financed by National Housing Finance and Investment Corporation (NHFIC).
Prime Minister Anthony Albanese joined BlueCHP CEO Charles Northcote for a tour of the completed two-storey, three-bedroom plus office, duplex homes.
"I'm proud of these homes, they show our commitment to delivering safe, affordable homes, built for the long-term.
Our residents enjoy the security they will always have an affordable roof over their heads, and they are living in a home that supports them aging in place," said Charles Northcote, CEO, BlueCHP.
"We have been able to secure nearly 3,000 development-approved dwellings to be able to initiate and start with the Housing Australia Future Fund (HAFF), and we are excited to start building.
"Reaching this milestone in Jordan Springs shows what can be achieved through the partnership of Community Housing Providers (CHP), state government and Federal investment into new housing."
Now in its twelfth year, Stage 1 and 2 of this scheme will deliver 168 affordable homes, with the potential for a further 18 homes in Stage 3. Due to the pandemic, they were unable to celebrate the opening of the 100th dwelling. It's time to mark the great partnerships with government, the not-for-profit sector, and private providers as they facilitate the delivery of up to 186 affordable and Specialist Disability Accommodation (SDA) homes to the Penrith community.
The family homes, delivered in this project, are a blend of two to four-bedroom standalone homes, house and granny flat combinations, and duplex dwellings spread across Jordan Springs and Ropes Crossing. 35 of these dwellings have also been built to the NDIA Improved Liveability SDA standard. Residents will enjoy modern homes with open plan designs and private backyards, in locations close to schools, Western Sydney University, Nepean Hospital, and with easy access to Penrith CBD.
"We are proud to be working in partnership with the NSW state government, NHFIC, Lendlease and our other partners to be able to deliver much-needed affordable housing to Penrith. I want to acknowledge the hard work of Glenn Amanonce and Jimmy Lee in our dedicated NSW Development team who strive to provide accessible, safe, and affordable homes to vulnerable people in our community," said Charles Northcote, CEO, BlueCHP.
BlueCHP is a not-for-profit, tier 1 Community Housing Provider. Founded in 2008, BlueCHP has grown to deliver over 2000 social, affordable and disability homes to the CHP sector and is noted for its collaborative approach to partnering, development expertise, and ability to deliver pragmatic housing solutions.