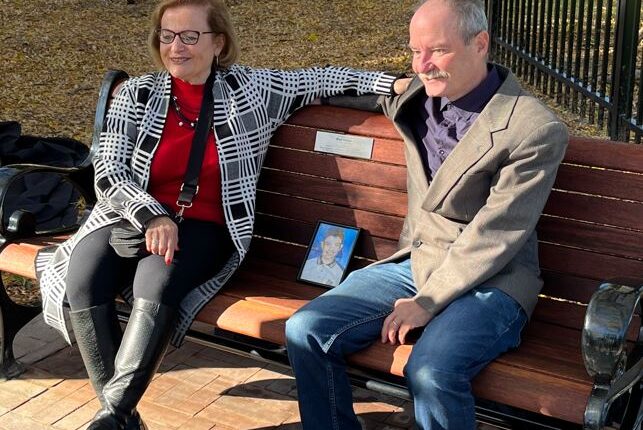 Local Schoolboy Remembered as Emu Plains Commuter Carpark Opens
A new commuter car park with 750 spaces has opened alongside Emu Plains Railway Station. The car park, accessible via a newly constructed roundabout at the intersection of Old Bathurst Road and Smith Street, will provide additional spaces for commuters who use Emu Plains to access public transport.
In addition to the commuter parking facility, the NSW Government funded a 220-metre long footpath to improve pedestrian connectivity between the railway station and the Nepean Creative and Performing Arts High School.
The new footpath was included in the project after the community called for safety and access improvements around the station following the death of Rhys Walker, a student at the Nepean Creative and Performing Arts High School.
The footpath connects to the new footbridge over Old Bathurst Road providing safe and direct pedestrian access between the car park and railway station, complete with new fencing and lighting. The footpath will be dedicated to the memory of Rhys.
The design of the new footbridge was inspired by an emu and the colour resembles an emu egg.
The new commuter car park is a jointly funded initiative between the Australian and NSW Governments and includes accessible parking and dedicated motorcycle spaces.
A cast bronze sculpture named 'buru' (or wallaby) by local Darug artist Hayley Pigram sits prominently at the car park entrance. The 'buru' represents a living connection between past, present, and future.
Other key features of the car park include CCTV, lighting, and wayfinding signage to improve safety and rain gardens to capture and manage excess rainfall. Transport Park&Ride infrastructure, which facilitates free parking for public transport users when they tap on and off with the same opal card is also planned to be installed in the car park.
Over 1,000 workers were employed on the project and approximately 110,000 work hours were spent on the construction of the car park.
"This project is more than just a car park. Transport for NSW have worked with families, local schools, and the community to create a safe walking route along Old Bathurst Road, helping people avoid a busy and dangerous intersection" said NSW Transport Minister Jo Haylen.
"The tragic loss of Rhys Walker's young life 12 years ago has had a lasting effect on both his family and our community. This pathway will serve as a Tribute to honour Rhys' life.
"We formally name the path the 'Rhys Walker Memorial Path' which will feature seating and a dedicated plaque in his honour.
"I sincerely thank Rhys' family and the local community for their involvement in working with the Government to achieve the outcome we see" said Member for Penrith Karen McKeown.
More information about the project can be found at www.transport.nsw.gov.au/emuplains.