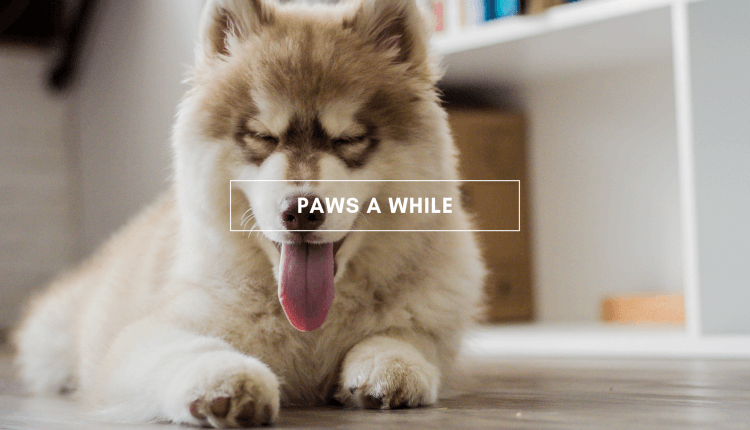 Paws A While
Winter Worries for Pets
Winter can be a time that makes us all feel under the weather. Like us, our pets also notice the cold. Here is what to look out for with your pet in Winter.
Arthritis : As with humans, the cold weather can make arthritis symptoms worse. Owner should look out for any decrease in activity levels that could be due to an animal's discomfort. Dogs and cats may have difficulty first thing in the morning, climbing up and down stairs or just generally slowing down.
Shelter from the cold : Adequate warmth and shelter are essential in combating the cold weather. It may seem obvious, but double check that pets can safely shelter themselves from wet weather and wind. Some very old pets with severe joint disease or senility may not have the capacity to remove themselves from the elements It may be best to give pets warmer, padded bedding and more blankets so they can escape the cold. Know your pet – this is especially important for short-haired dogs that live outside. Breeds such as whippets can feel the cold more than other dogs. Another option is to purchase a jacket or clothing to keep your pet warm if they feel comfortable wearing them. Also, consider bringing your pet inside at night if they're older or a short-haired breed.
Winter diet : As we tend to stray away from exercise in colder weather, we may forget our pets' activity needs. Decreased activity without a change in diet may impact your pet's metabolism. In Wintertime, many people won't exercise their dogs as much as in the Spring or Summer with the beautiful weather. If you know your dog will be getting less exercise – even if it means reducing the length or frequency of walks – remember to adjust their diet to avoid 'winter weight gain.'
The same goes for cats, which can become less inclined to exercise or venture outside in winter. Ensure you're exercising your cat regularly with playtime, and adjust their diet to align with activity levels.
Exercising in Winter : The cooler weather doesn't mean our pets won't enjoy exercise as much. Most pets are happy to participate in regular exercise routines if they're enjoying company with their owners Again, it's good to be aware that they could be slower than normal, particularly if they're old or have arthritis. Steady exercise and a good warm-up will prevent injury.
If your pet is slower than usual, or acts sluggish or like they're in pain – all of which can be exacerbated by colder weather – give the team at Orchard Hills Veterinary Hospital a call on 0247362027.
Please feel free to pop in anytime and meet the team at Orchard Hills Veterinary Hospital. For more information check out our Facebook, website www.orchardhillsvet.com.au , Instagram @orchardhillsvethospitalgrooms or call 02 4736 2027.
Article Written + Submitted by: Kellie Tickner from Orchard Hills Veterinary Hospital
A: 377 Wentworth Rd, Orchard Hills P: 4736 2027