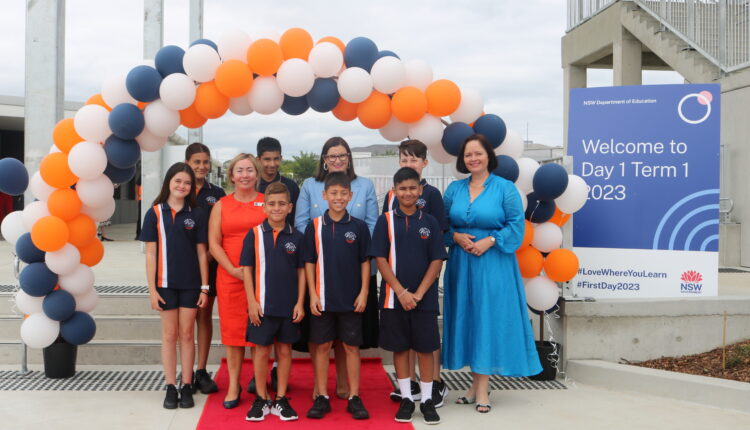 Smiles Abound as New Nangamay Public School Opens
Students at the brand new Nangamay Public School in Glenmore Park began the school year in style, with the $40 million new school project opening. Minister for Education and Early Learning Sarah Mitchell and Member for Mulgoa
Tanya Davies were at the school to officially open the new facilities recently.
The new school accommodates up to 420 students from Kindergarten to Year 6, and includes 20 flexible, air-conditioned learning spaces, a library, canteen, and staff administration spaces, as well as a multipurpose hall and sports and play space. While the students enjoy learning and playing in their wonderful new school the final landscaping and play space will be completed in Term 1.
Mrs Davies said it was an exciting day for students and teachers starting the first day of the school year in their brand new classrooms.
"It is a pleasure to see Nangamay Public School open. The students and teachers already look so at home and their new classrooms look amazing. It will be a fantastic place to learn,"
"This investment will support families and students in this area for generations to come,
"It's the Liberal and Nationals Government that is delivering vital infrastructure for our local community" Mrs Davies said.
Ms Mitchell said she was thrilled to see students with smiles on their faces starting their year with enthusiasm in their new state-of-the-art facilities.
"We want students to come to school excited to engage in learning, and the new facilities at Nangamay Public School will provide a learning environment that inspires that and more," Ms Mitchell said.
"It is a fantastic start to the year to see students settling into the schools we have worked so hard to deliver. This year the NSW Government will continue to work hard to deliver the very best for our students."
The NSW Government is investing $8.6 billion in school infrastructure over the next four years, continuing its program to deliver 160 new and upgraded schools to support communities across NSW. This builds on the more than $9.1 billion invested in projects delivered since 2017, a program of $17.7 billion in public education infrastructure.