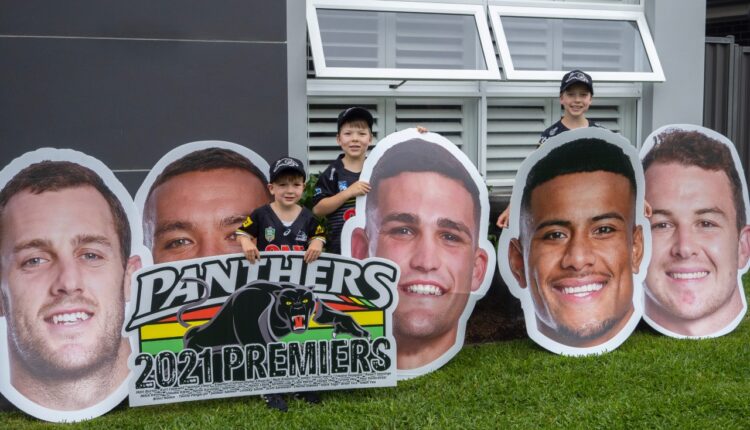 Panther Fans Hold Their Heads High
With the Penrith Panthers crowned the 2021 NRL Premiers, the local community has been alive with proud fans showing their support far and wide. Team colours and displays adorn houses showing their Panther Pride.
The drawcard to the displays has been the Penrith Panthers Player Heads. The Heads have been very popular amongst fans, including children and are made by local resident Enzo Montana of Montana Signs.
Montana Signs are sponsors of the Penrith Panthers. They have been responsible for the signage at BlueBet Stadium this season.
"We have sold over 3,000 Penrith Panthers Player Heads to supporters this year. With 13 players to choose from, which was the main first grade team, the three most popular amongst fans have been Nathan Cleary, Jarome Luai and Brian To'o. We have also sold Panthers Team Shots and Logo Cut-Outs as well as Stickers" explained Enzo to the Jordan Springs Gazette.
The idea for the Penrith Panthers Player Heads came from a Panthers representative. They have been embraced by fans, firstly at BlueBet Stadium and then at supporter's homes and workplaces during lockdown.
"Panther's supporters are loyal and proud. Our goal when making the Penrith Panthers Player Heads was to help create an atmosphere at home games. It was a way to lift the players when they came out and took to the field.
"Kids, in particular, love the Player Heads. Seeing the smiles on their faces is worth it" he said.
Enzo has been a Penrith Panthers supporter himself for over a decade.
"I have a personal relationship with the club. When they won the Grand Final, I was proud of everyone, from the players to the staff. It was an amazing achievement" Enzo stated.
"I wish to send a shout out to Jake Fenech, Darren Micallef, Joe Dunn, Jeremy Tuite, Jade Chalker-Keene, Tasha Fordham and the Sponsorship/Marketing Team this season.
"Most of all, a big thank you to my wife Asude and my children Allegra, Aletta, Nino and Ava. Asuda has been great looking after the family whilst I have been putting in huge hours. Thank you must also go to Jack Ham, Daniel Choice and Sylvia De Santis for their help" he ended.
The Penrith Panthers Player Heads are $20 each, whilst the Panthers Team Shots and Logo Cut-Outs are $35 each. Shipping is available all over Australia for an additional fee.
For more information, search Montana Signs on Facebook or visit their website at www.montanasigns.com.au.