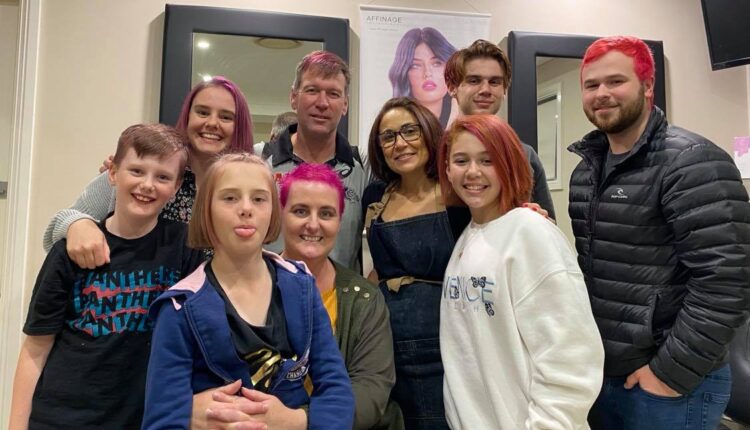 Local Family Goes Pink for a Great Cause
Touched by the reality of breast cancer, a local family have shown an amazing amount of support to "go pink" and raise thousands of dollars for the National Breast Cancer Foundation (NBCF) recently.
The Jeffery's of Emu Heights, consisting of Christine (Mum), Grace (daughter), Joshua (son), Courtney (daughter) and Michael (Courtney's partner) formed Team Great Minds Pink Alike and have raised $8,854 for the National Breast Cancer Foundation's (NBCF) #GoPink initiative.
"The Foundation holds multiple fundraisers throughout the year, across a range of interests from pink hair dye to fitness. We found that #GoPink was one the whole family could get involved in. The NBCF's main goal is to reach zero breast cancer related deaths by 2030, and their fundraising efforts help finance research projects to achieve this goal" explained Courtney Jeffery to the Emu and Leonay Gazette.
"Our inspiration for this is our Mum Christine. She has been going through chemo and radiation treatment for breast cancer since last August. The NBCF have been the most recommended source to help answer all our questions, and as a go to guide for any information regarding newfound treatments. Having a target of zero deaths by 2030, it just made sense to raise funds for them" Courtney continued.
To follow the family's journey for #GoPink, search @greatminds_pinkalike on Instagram and @GreatMindsPinkAlike at Facebook.
"The community can get involved by visiting the NBCF website and viewing the information they have available, by taking their own pledge and joining in on any upcoming fundraisers. If they would like to support our own efforts, they can donate to our page" ended Courtney.
If you would like to donate to Great Minds Pink Alike, visit: https://fundraise.nbcf.org.au/fundraisers/GreatMindsPINKAlike.