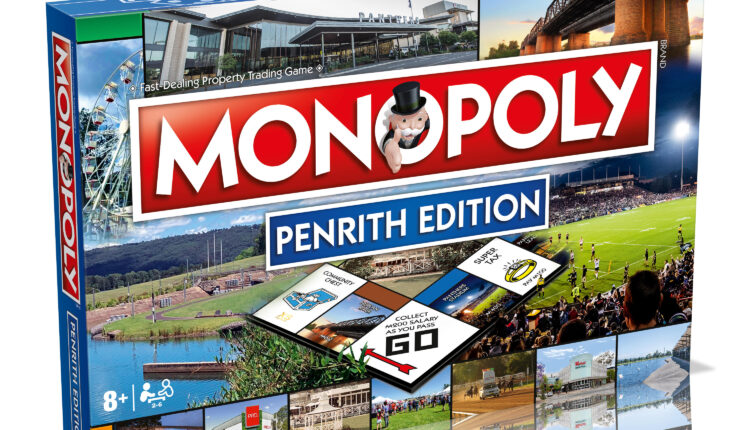 You Can Now Roll the Dice of Penrith Monopoly
After much anticipation, the official PENRITH MONOPOLY game has officially launched.
Locals and tourists alike can now play the world's most popular board game in a way that immortalises their beloved Penrith and its landmarks.
Over several months, thousands of people and businesses having had their say, and after much deliberation, the locally themed squares selected that will make the entire game a truly Penrith experience are:
Brown – Nepean River and Sydney International Regatta Centre
Light Blue – Nepean Belle, Aqua Golf and Penrith Whitewater Stadium
Pink – Luddenham Country Markets, Club Paceway and Throw Axe
Orange – Nepean Hospital, Museum of Fire and The Joan Sutherland Centre
Red – High Street, Riley Street and Westfields
Yellow – The Red Cow, O'Donoghues and East Bank Nepean River
Green – Xavier College, Emu Hall and Mr Watkins
Dark Blue – Panthers Leagues Club and Panthers Stadium
After such a difficult few years with bushfires and a global pandemic, it is about time we had a good news story that allows people to celebrate the area but also, support the businesses they love. The new MONOPOLY: Penrith Edition is available now at the following partners (RRP $69.95):
Luddenham Country Markets
Throw Axe
Nepean Hospital
Museum of Fire
Westfields
The Red Cow
O'Donoghues
PRD Real Estate
Xavier College
Emu Hall
Mr Watkins
Panthers Leagues Club
Club Paceway
Dale Hackett, Monopoly Manager, Winning Moves – manufacturers of the official Penrith version of MONOPOLY under license from Hasbro – said, "I'm thrilled that this edition celebrates such a patriotic area of greater Sydney. The Penrith community has fully embraced bringing this game to life, and now it's available for the public to purchase and roll the dice!"
Penrith Mayor Karen McKeown OAM said, "It's fantastic to see Penrith has its own edition of Monopoly, putting it in company with some of the biggest cities in the world. Penrith has so much to offer and that's reflected in the assortment of businesses and landmarks in the game. It's a testament to our city's strong community pride that so many local businesses have been eager to get involved".
The MONOPOLY game first hit the shelves in 1935 – since then it has been played by more than 1 billion people.
Today, it is played in 114 countries and enjoyed in over 47 different languages.