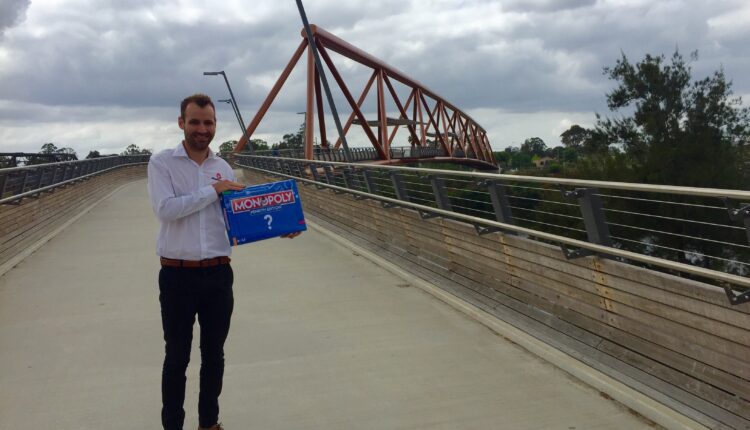 Here Comes PENRITH MONOPOLY
The foot of the mountains is home to an abundance of iconic locations loved by locals, and now the region is being immortalised with its very own official PENRITH MONOPOLY board.
From March, Penrith residents and visitors will be able to play the world's most popular board game in a way that pays tribute to all things Penrith.
From now until February, fans can voice which locations they would like to see featured on the board via the official PENRITH MONOPOLY Facebook page or by email.
The edition will see locally themed squares replace Mayfair and Park Lane from the original London MONOPOLY board and include a customised 'Community Chest' and 'Chance' playing cards, making the entire game a truly Penrith experience.
Winning Moves, manufacturers of the official Penrith version of MONOPOLY under license from Hasbro, say the game will be sold through exclusive local businesses.
Dale Hackett, representative from Winning Moves and Penrith local said: "Finally, we have the privilege to bring this globally loved game to the city that I grew up in. We want to ensure that Penrith MONOPOLY is an accurate portrayal of what locals love about the city, so we would love for everyone to get on board and send us their recommendations of what they would like to see included. Anything and everything is up for consideration – from the Nepean River and Penrith Lakes, to Penrith Panthers and Westfields – so get involved!
"This edition will be everything you love about the traditional board, adapted in a way that Penrith residents will enjoy for generations to come. There will also be opportunities in the coming months for schools and individuals alike to get involved in the creation of this game, so stay tuned for more exciting details" Dale adds.
MONOPOLY first hit the shelves in 1935 – since then it has been played by more than 1 billion people. Today, it is played in 114 countries and enjoyed in over 47 different languages.
The new MONOPOLY: Penrith Edition will be available from March from select local businesses across the region.