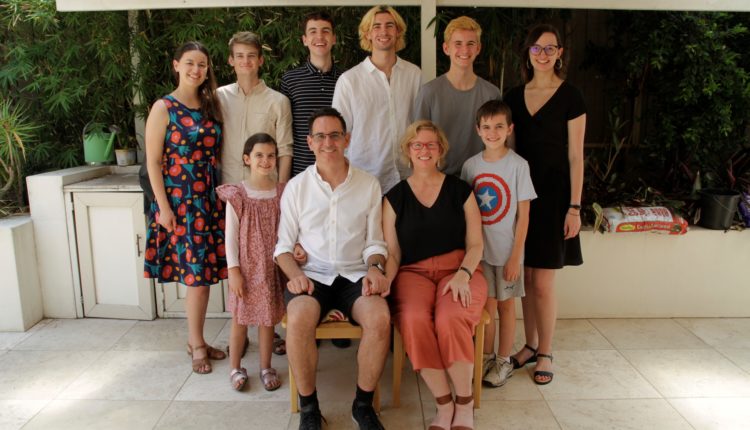 Wests Leagues Club is not that far west. It's in Ashfield! But Chris Braga, the new Senior Minister at Glenmore Park Anglican Church and St Thomas' Mulgoa, has moved from being a stone's throw from Wests Leagues Club to the real west. Chris has moved to Glenmore Park with his wife Beth and six of their children (they have seven – one is married). Chris and Beth have big shoes to fill as they take over from John and Karen Lavender, who led the church for 23 years.
However, it has been a strange year to move. Firstly, the fires, then flooding and now of course COVID-19. "One of the things we looked forward to most was meeting people in the west, and that's been a little hard" explained Chris.
The family moved into Glenmore Park during mid-February, so that the children could go to school locally. Chris started at the church just before Easter.
"Easter is usually such a busy time where we celebrate the most significant events in the Bible – the death and resurrection of Jesus – who is the Son of God", Chris said. "But this year, the car park was empty and the building quiet". The staff team at the church are doing things differently, with small 'Connect Groups' meeting over Zoom and the weekly message and music on YouTube and Facebook. "While we can't meet together face to face, we have been able to connect with lots of people online who might not normally come to church on a Sunday" he said.
Chris' wife Beth, who has been supervising online learning for four of their children and juggling being a casual teacher, has enjoyed getting to know people online. Beth said, "I can't wait until this time of social distancing is over and we can really be part of the community here at the church and in Glenmore Park".
You can visit their new website at https://www.gpachurch.online/ or follow them on Facebook at https://www.facebook.com/glenmoreparkanglican/