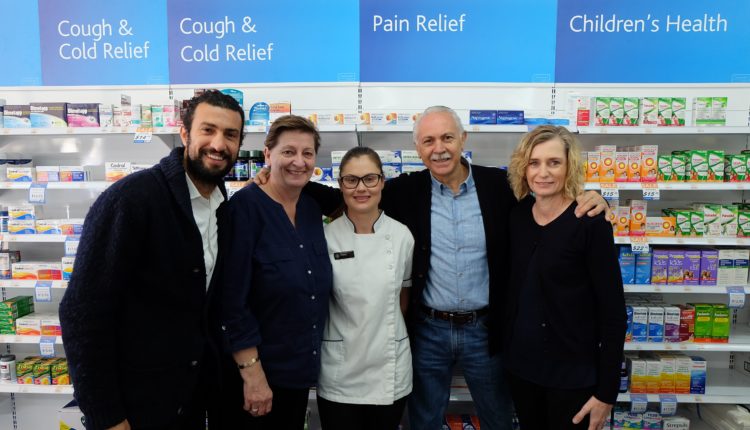 The Heart and Soul of Mulgoa
The local community have bid farewell to Mulgoa Pharmacy's Brian Mitchell, who left the business on 27th of September, after almost 18 years, closing a memorable chapter in his life.
Brian first started at Mulgoa Pharmacy in December 2001, when he worked with John Debeck, the original owner. He took over the pharmacy in February the following year and was initially joined by his wife Marilyn, who had left the corporate world to become an integral part of Mulgoa Pharmacy. Soon after, Amanda and then Deanne, made the team complete.
"The most enjoyment my wife and I have experienced is working with the local community. Getting to know our customers and their children on both a professional level and, in many cases, on a personal level as well. We take great pleasure having helped the children whose parents we helped many years earlier" said Brian to the Mulgoa Valley Gazette.
"The main thing we will miss is our rapport with our customers and trying to help whenever we were able. Our loyal customers were like an extended part of the family. We always tried to make work enjoyable, having a laugh and a joke where possible. We made Mulgoa Pharmacy a happy place to visit, even if it was just for a talk and many jokes" he explained.
In their tenure as owners, they saw major changes in both their customer base and the local area topography. They noticed more families moving into the area to bring up their children in the beautiful, semi-rural precinct. Undoubtedly, the next major change will be the Badgery's Creek airport development, which has set the tone for big changes in the whole Nepean Valley.
For now, their plans for the future are not set in concrete, but they certainly hope to travel, catch up and spend quality time with their children and grandchildren.
"We will always cherish our time and good memories at Mulgoa Pharmacy. Now that we have handed the baton to Phil and Luana, the new owners, we hope that with Amy, Deanne and Kathy that business will continue as usual" Brian ended.
On behalf of the community, the Mulgoa Valley Gazette would like to thank Brian and Marilyn for their wonderful years of service and wish Phillip and Luana the best of luck with the pharmacy.