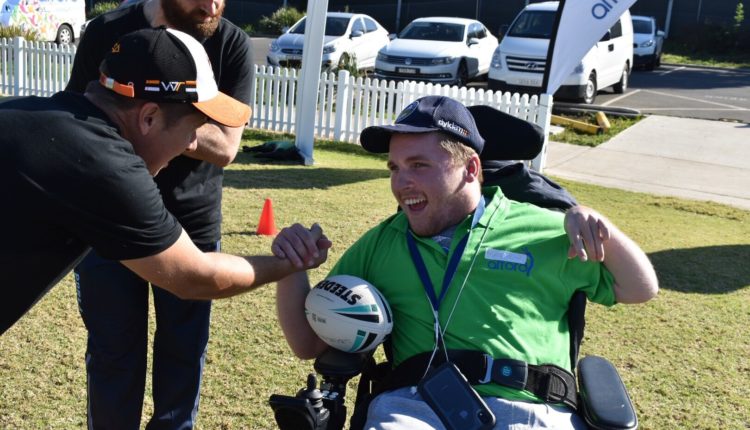 Oran Park Players Become Heroes With Abilities
Participants of Afford's Oran Park Day Program are developing their skills in a new, modified competition of touch football called Heroes With Abilities, where all participants are encouraged to 'have a go', no matter their disability.
Afford (the Australian Foundation for Disability) champions inclusive communities and encourages all members of the Afford community to stay active to lead a happy and healthy lifestyle under the NDIS.
Afford has partnered with Heroes With Abilities to launch this new initiative, where players with any disability work as a team to become reigning champions of the Heroes With Abilities Afford Shield on the final Gala Day.
The competition involves a modified game of touch football where there are six tackles and the ball is always kept in play. Teams will also have two able bodied players who are there to mentor and encourage team members, but are not able to score or kick the ball.
For around 10 weeks, players from Afford Oran Park Day Program have trained to develop their skills in ball passing, balance, kicking, playing as a team and of course, having fun!
Afford CEO, Steven Herald says that the partnership aligns strongly with Afford's mission to promote inclusive communities and healthy lifestyles.
"Each and every one of our clients has a unique ability to share. We are proud to be partnering with Heroes with Abilities to ensure that our clients have every opportunity to get involved in activities that they love."
Heroes With Abilities was founded by George Tonna and Marco Quintao.
Living with Cerebral Palsy, George wanted to create opportunities for individuals to feel safe and supported to get involved in sport. 20 years ago, George was integral in establishing Cerebral Palsy football and soccer, and is also currently a founder and life member of the NSW Physical Disability Rugby League Association and plays for the Wests Tigers team.
Afford is a registered charity and has been operating in Australia for over 65 years, providing a range of disability supports to thousands of people every day.
For more information about Afford, visit www.afford.com.au or call 1300 233 673.