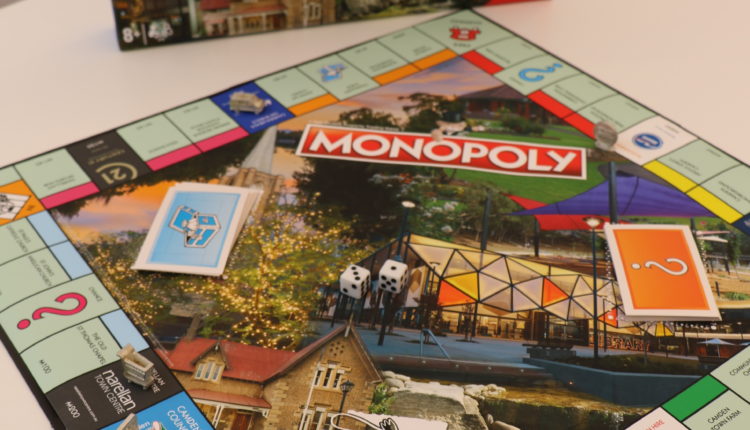 One Step Closer to the Camden Edition of Monopoly
Camden Council is proud to present the Camden Edition Monopoly, which is now in production!
The artwork has been finalised and 2,000 copies of the game are currently being produced.
One of the most exciting elements of the Camden Edition was selecting the locations. Council surveyed the community, asking for feedback on the locations they felt should be included on the board, and received more than 3,500 responses. The 22 locations selected include Camden Airport, Leppington Train Station, The Old St Thomas Chapel, St John's Anglican Church, St Paul's Catholic Church, Narellan Sports Hub, Teen Ranch, Birriwa Reserve Outdoor Youth Space, Mater Dei Chapel, Gledswood Homestead, Camelot House, Belgenny Farm, Historic Carrington Centennial Hospital, Harrington Park Homestead, Argyle Street, Camden, Camden Showground, Camden Bicentennial Equestrian Park, Australian Botanic Garden, Mount Annan, Macarthur Park, Camden Town Farm, Oran Park Library and Cobbitty Village.
Mayor of Camden, Cr Theresa Fedeli, thanked the 12 sponsors for their involvement.
"It was so important we had supportive organisations on board because the money we receive from the sale of this game will be donated to Lifeline Macarthur and the Camden Wollondilly Domestic Violence Committee" Cr Fedeli said.
"We want to raise as much money as we can for these two very deserving organisations.
"We'd like to thank all sponsors, particularly our gold sponsors Narellan Town Centre, The Hermitage, Gledswood Hills, Meals on Wheels and Plus Fitness. Each organisation has just approved their token for the game, and they all look great!"
The game's silver and bronze sponsors include Harcourts Paramount Real Estate, Camden Hire, The Mac Credit Union, Clintons Toyota, Harrington Estates, Grimes Finance and Mortgages and Narellan Carpet Court.
Narellan Town Centre General Manager, Brad Page, said there was no way they'd let the sponsorship opportunity pass.
"This initiative is a great community project and Narellan Town Centre is as local as it gets" Mr Page said.
"It's a classic, timeless game that connects family and friends. The opportunity to have a local edition of an all-time family favourite is something we believe residents will be proud of to pull out of their cupboards".
The game will first be available for purchase at the Jacaranda Festival, in November. It will then be available for purchase from Camden Council administration building, Oran Park, Camden and Narellan Libraries, Camden Visitor Information Centre and participating local businesses.
For more information, visit bit.ly/camdenmonopoly.