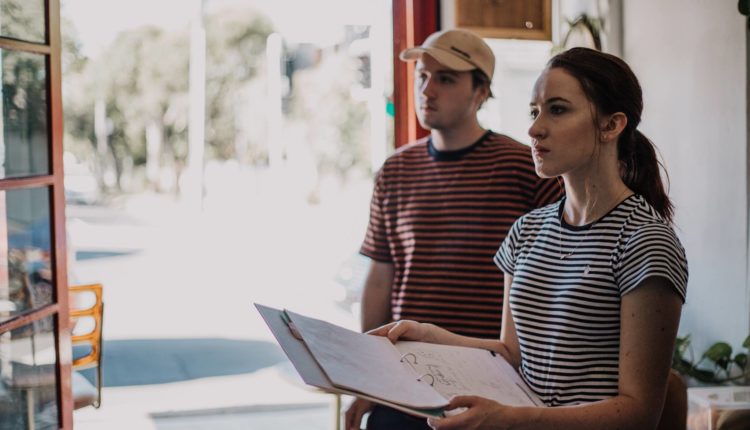 Most filmmakers dream of one day having their films shown in Hollywood. For Glenbrook filmmaker Rebekah Jackson, that dream became a reality, with her short film 'For The Girl In The Coffee Shop' having it's world premiere at Dances With Films in Hollywood in July, before being shown at the prestigious gala night at CinéfestOz at Busselton in Western Australia soon after.
The short film, which was written and directed by Rebekah, first came to life last year whilst she was overseas. She explained, "I started writing the short in May of last year. I was in LA at the time and went to one of those funky cafes there full of writers tapping away on their laptops. I figured their creativity would rub off on me, but when I got to the café, I realised almost everyone was on Twitter or Facebook".
"Nevertheless, it got me thinking about how we imagine the lives of the stranger we see regularly but do not know.
That's what the film is about, an illustrator who has written a book imagining the life of a girl he sees at the coffee shop. We see the very amusing collision of fantasy and reality" added Rebekah.
The experience of having her film premiere in Hollywood at Dances With Films is one that Rebekah won't forget in a hurry. "It was very surreal! Prior to the premiere in Hollywood, the most people who had watched the film at any one time was 20 people at a family lunch. It was quite daunting screening my very first film to nearly 500 people when you only know 5 people in the audience, but it made it more rewarding when the audience erupted in laughter. I made the film hoping people would connect to it and really delight in it, so it was extremely validating when strangers from the other side of the world did" she said.
Rebekah is also currently writing her first feature film. It's a coming of age story based on para swimmer Ella Jones' journey to find swimming as a rebellious teenager.
To stay up to date with news on 'For The Girl In The Coffee Shop', follow the film on Instagram and Facebook.