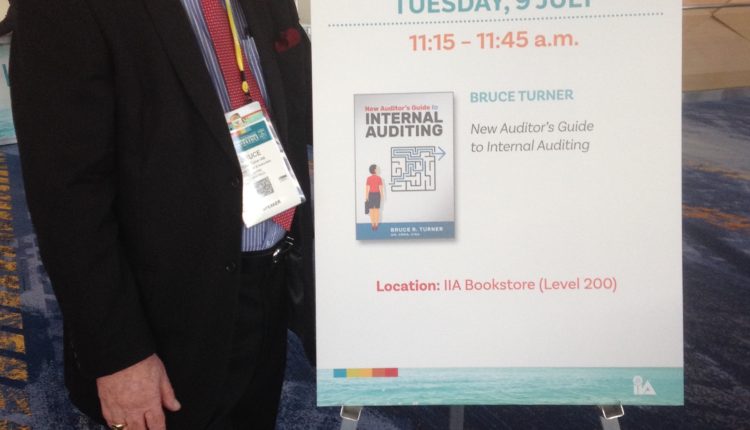 When it comes to life in retirement, Emu Plains author Bruce Turner AM has rewritten the book! In his first decade of retirement, Bruce has authored over 30 publications (books, white papers, practice guides, guidelines, and articles) and co-authored a further dozen. Adding to this is Bruce's latest book, titled 'New Auditor's Guide to Internal Auditing', which was published by the Internal Audit Foundation (USA) in April this year.
With more than 40 years of experience working in internal auditing across the globe, Bruce's latest book is the first he has written solely by himself. According to the publisher, the Internal Audit Foundation (USA), New Auditor's Guide to Internal Auditing incorporates insights, stories, and tips covering the "who, why, how, when, what, and where" of internal auditing for new auditors in their first two years in the profession. It also caters to educators and others who support internal audit, such as engineers, lawyers, and health professionals. In addition, it provides team leaders and chief audit executives with contemporary tools to assist in training new recruits.
"Within a few years, 1 in 4 baby boomers in the internal auditing profession across the world are expected to retire.
Given they make up a high proportion of the internal audit workforce and have extensive experience they will leave a void. New internal auditors will come into the profession, and they will need guidance on what to expect and how to perform at a high level; this book does that" said Bruce to the Emu and Leonay Gazette.
Bruce recently attended the international conference for internal auditors in Anaheim in the USA, where he spoke about insights contained in the book and hosted a book signing. His speaking engagements have taken him to major financial centres like London and Singapore through to South Pacific nations like Fiji.
Turner has completed the manuscript for his next book, titled 'Team Leaders Guide to Internal Audit Leadership', which is aimed at equipping internal audit leaders with the skills they need in a rapidly changing business world.
"Writing gives me the opportunity to share my stories with the next generation/s of business leaders, to equip them with the skills they need to survive and flourish in a business world that is constantly changing. By doing so, it helps me to do my bit in helping to make the world a better place" he ended.