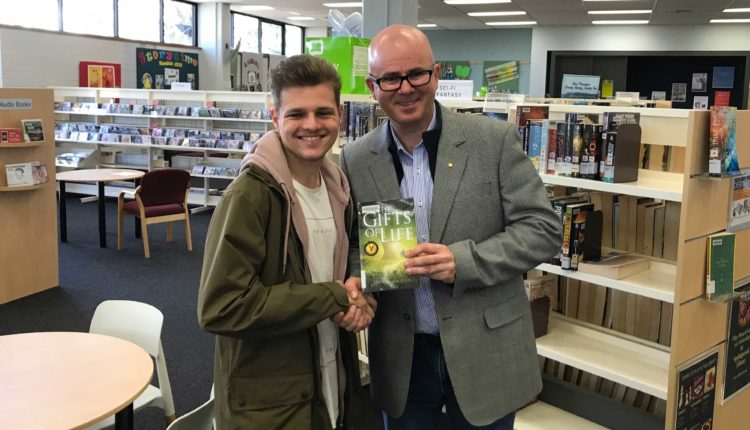 Blue Mountains Student's Book now Stocked at Library
Blue Mountains student Oliver Smuhar is a young writer with big ambitions. His first book, The Gifts of Life, has now made it onto the shelves of Blue Mountains Library, while the 18-year-old has already penned his second novel and is working on a third.
Oliver, from Blaxland, wrote The Gifts of Life while studying for his HSC at St Columba's Catholic College, Springwood, finding at least one hour each night to write after his homework.
"It was difficult at times, but I never once thought of writing as a chore or as a type of study" said Oliver. "It's—for me—more of a leisure I enjoy, like watching Netflix in my free time".
The dedication paid off, with the book published last year and available to purchase from local bookshops, The Turning Page in Springwood and Blue Dragon Books, Glenbrook, as well as online.
Now The Gifts of Life can be borrowed from Blue Mountains Library, after Oliver, contacted Blue Mountains Mayor Mark Greenhill for a university project. Cr Greenhill offered to help the young writer with promotion of his book.
"As a City of the Arts Council, we love to see local writers succeeding" said Cr Greenhill. "And students like Oliver are an inspiration to other young people in the Blue Mountains".
Oliver said, "When a librarian replies with the good news of my book being ordered and accepted for their shelves, it really makes me want to continue what I am doing and improve my craft, write better stories and market more to the world around me.
"My debut is really a story about identity and what it is that makes people individuals" he said.
"Although set in a world that is a complete modern fantasy, where animals talk, cities are built on giants' backs and where everyone has a unique ability or power, I really wrote this Young Adult's epic—and am continuing it—to create a world where people can lose themselves and learn important contemporary morals, like that it's okay to be weird!"
Oliver, now a Communications student at the University of Technology Sydney, is currently writing a sequel to The Gifts of Life. He is also seeking a traditional publisher for his second completed novel, Cold Hands. He describes this book as "a more down to earth Australian drama that takes place here in the Mountains".
For more information visit Oliver's website: http://www.oliversmuhar.com/