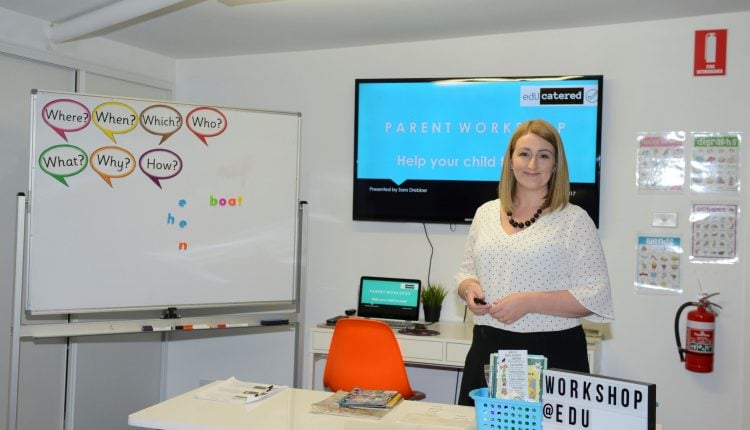 Sara is Ahead of the Class
Local businesswoman, mother and Glenmore Park resident, Sara Drebber, has been named as a Finalist in the 2019 Altitude Awards in the category of Purpose Driven Entrepreneur. This award is for women driving businesses that look to find a balance between profit, people and purpose, creating a force for positive change in the world.
Sara's business edUcatered was founded on the premise that there was a need to facilitate opportunities for teachers and parents to develop strategies to support the learning of children in their care, outside of the current education system. It operates on the key belief that each child has the ability to learn and as a community we need to support our children by catering for their individual needs. edUcatered prides itself on a strong commitment to providing quality, engaging and supportive services and consistently review operations to maintain best practice.
"My aim is to create a community of learners which interact and support each other. Education is not the result of one person or place, but rather a number of factors which need to be united to create the best future possible for our children" explained Sara.
Sara is dedicated to inspiring others, as she strives to create a positive impact in education through sharing her zest for learning and growing as individuals. She developed edUcatered to achieve that vision and is very excited to be nominated in this prestigious category.
The Altitude Awards are an opportunity to acknowledge women from small business, local entrepreneurs who have made outstanding contributions as; business owners, volunteers, employees, creative thinkers in retail, charities and community organisations.
Women with Altitude founder, Andrea Turner-Boys said, "We look forward to this time each year when we celebrate and champion the achievements of everyday people achieving extraordinary things. Each finalist has been chosen for their outstanding contributions in their field and an independent judging panel adjudicate the awards. We will be awarding the winner of each category at a Gala Awards Ball on Saturday 1st June at Liverpool Catholic Club event centre".