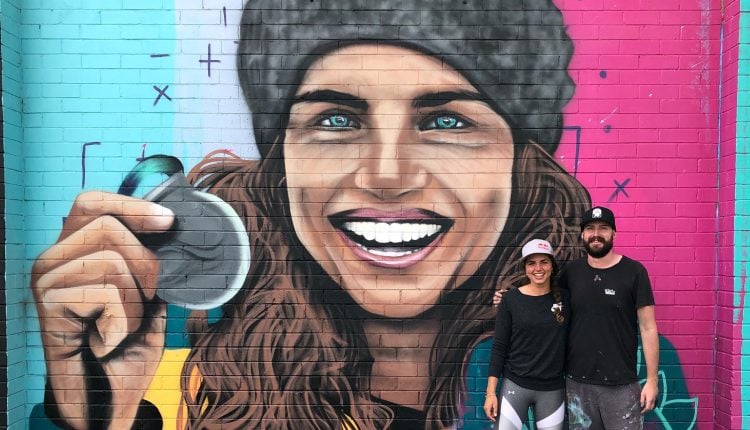 You may not know him by name, but by now you would have seen some of Shannon Boyd's amazing artwork out and about in the local area. The Glenmore Park artist's colourful murals currently adorn parts of Penrith and we're about to see a whole lot more of his work.
The talented artist first picked up the pencils at an early age, and with a keen eye for detail, hasn't stopped since.
"I can't really pinpoint a time I would say I became an artist, but I have been interested and had a natural skill for art as young as 5 years old. My kindergarten teacher noticed I had more of a taking to drawing than many other students or children my age and older. She had a quiet word to Mum and provided me with my first set of Derwent pencils and off I went" Shannon told the Glenmore Gazette.
"The people I meet or see, popular culture and my own interests have helped inspire me to do something that I enjoy doing. My background in graphic design and interest in comics helped push me into what has become murals and steady artwork. I also teach casually a few days, which helps balance everything" he continued.
Boyd enjoys painting people, animals, characters and landscapes with nice colours, tones and perspective. He explained that he is still searching for his recognisable style. "My worst day painting is still better than my best day in an office" he quipped.
He is currently wrapping up an Indigenous inspired mural, paying respects to their involvement in World War 1, for Colyton Public School's Anzac Day Ceremony. After that, he has a high school and another public school to paint murals for as well as some private commissions. Shannon has also been involved in an advertisement for Visit Penrith and DestinationNSW to promote Penrith, which is coming soon.
With clients that include PCYC NSW, Colyton Public School, O'Donoghues Irish Pub, Pinot&Picasso, High Street Social, Penrith RSL, High Street Music, BrewLab Cafe, Beefys Burgers, Downtown Brooklyn, Burgerhead, Bondi Sea Wall, Adidas, Ultra Football and Rose Football Academy, he certainly is an artist in demand.
For more information about Shannon Boyd, you can find him on Instagram at www.instagram.com/sb_illustration.