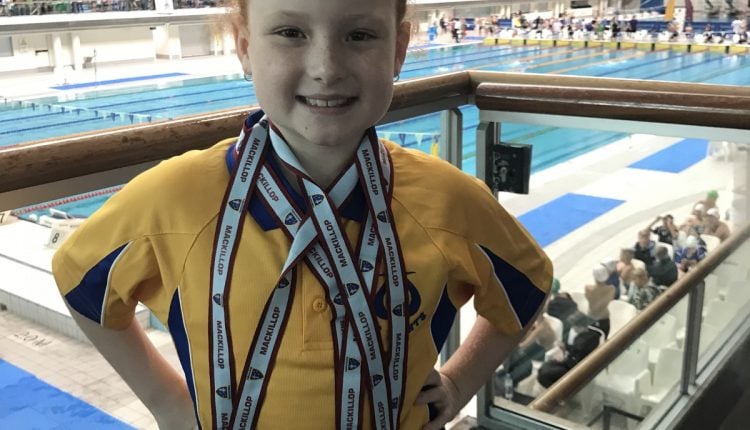 Local student, Matilda Mobbs, is taking the junior swimming world by storm, one lap at a time.
Matilda was diagnosed with Spina Bifida at the young age of 6 months old. Parents, Cassandra and Adam, were told Matilda would not be able to perform resistance style exercises or sports, in order to keep Matilda's muscles and joints in the best possible condition. This is when Matilda's parents chose to enrol Matilda in swimming.
At the age of 3, Matilda received her first pair of full leg braces and a walking frame to assist with her mobility. Matilda proved her doctors wrong. With her incredible strength, believed to have been gained from swimming, Matilda did not need the mobility aids she was provided.
Matilda, now aged 9, has not only achieved amazing milestones in her short but successful sporting career, thus far, but she has also met and received praise from her idol, Ellie Cole, for her wonderful achievements.
"When I met my idol, Ellie Cole, it was a dream come true because Ellie is an S9 Swimmer, and Ellie has a disability like me" Matilda said. Codes such as S9, S8 and SM9 are used to categorise swimmers based on their level of disability.
Matilda recently competed in the Catholic Schools Swimming Championships, in March, held at Sydney's Olympic Aquatic Centre. She received 3 Gold Medals for placing 1st in 50m Backstroke, Breaststroke and Freestyle. This amazing achievement placed Matilda in the NSW State Primary Schools Sports Association Swimming Championships (NSW PSSA) in April.
At the NSW PSSA, in all 3 races, Matilda was seeded in 4th, 5th and 6th places. She smashed her goals, receiving Silver for Freestyle, Bronze for Breaststroke and placed 5th in Backstroke.
"I really enjoy swimming, because it's an exercise where I don't have to push my muscles too hard. My favourite style is Breaststroke, because it's easy for me to do".
We wish Matilda continued success in her swimming career and look forward to one day watching her on the big screen at the Paralympic Games.