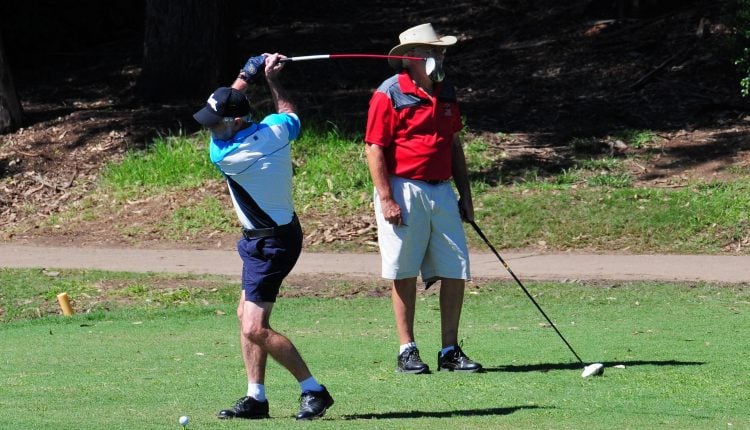 Glenmore Heritage Valley Hosts Round of 2019 NSWVGA Stroke-Play Championships
The Western Sydney Region Veteran Golfers Association (WSRVGA) hosted the 2019 NSW Veteran Golfers Association (NSWVGA) Stroke-Play Championships recently, at Richmond GC, Glenmore Heritage Valley GC and Stonecutters Ridge GC.
Day Two of the event was originally scheduled for Dunheved GC, but when the course was declared unsuitable due to weather damage, the management of Glenmore stepped in to offer their course and turned it out in spectacular condition.
Incessant rain brought about a cancellation of Day One at Richmond, with Tournament officials calling an end to the day's play mid-morning due to flooded greens and fairways.
Day 2 at Glenmore saw a field of 138 golfers treated to brilliant Autumn sunshine, with the course in great shape despite days of preceding rain.
Eventual Champion John Osborn (Mudgee GC) set the pace on Day 2, finishing two shots clear of the field with a round of 73, ahead of Richard Wood (Cumberland CGC) 75, 2018 champion Ricky Allison (Lakeside Golf Club, Camden) 75, Glenn Rosewall (Pymble GC) 76 and David McClelland (Wyong GC) 76.
The battles were just as strong in the lower grades, with five players all within three shots in B Grade, including Karl Stindle (Dunheved GC), whilst Mick Toohey (Wallacia) was leading both the Scratch and Nett Divisions in C Grade.
Senior Order of Merit (SOOM) leader Matthew Taylor shot a fabulous 70 on Day Three, one shot ahead of Geoff Cranfield (Long Reef GC) with 71.
Osborn dropped back from the pace of his Day 1 form to finish with a 75. His two-round total score of 148 would see him claim the Des Coady Memorial Shield and first place prize-money, just one shot ahead of Cranfield on 149.
Matt Kumjew (Hurstville GC) had back-to-back nett scores of 69-69 (138) to claim the Nett title, two shots ahead of David Laing (Dubbo GC) on 68-72 (140).
Geoff Yates (Leonay GC) won the Division Two (11-16) Scratch prize with 83-86 (169), Don Holland (Leonay GC) the Division Three (17-36) Scratch prize with 94-94 (188), Lal Jayawardene (Glenmore Heritage Valley GC) the Division Two Nett winner on Day 2; Mick Toohey (Wallacia GC) the Division Three Scratch winner on Day 2, Gordon McConnell (Leonay GC) the Division Three Nett winner on Day 2 and Peter Cromer (Wallacia GC) the Division Two Scratch winner on Day 3.