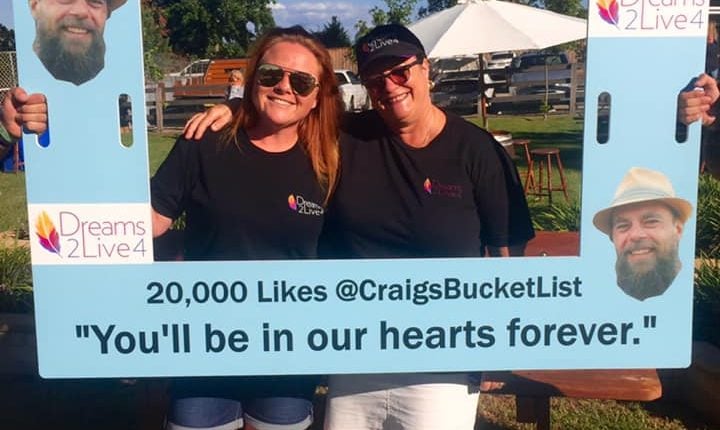 A Night to Remember for Craig and Frances
The local community came together last month to show their support for Sophie Mason and Grant Hoogenboom, raising over $10,000 for cancer charity Dreams2Live4 with a fantastic night of delicious food, great music and atmosphere at Settlers Mulgoa.
Just over 100 family and friends attended the sold-out event to get behind Sophie, who lost husband Craig to cancer in April last year and Grant, who lost wife Frances to cancer last year also, and to raise much needed funds for Dreams2Live4. Joining them were Harry Wild (MC and DJ) and Collective Jam who entertained the crowd with their rock music.
"Thank you to everyone that helped with the event. Most importantly, thank you to everyone that came along on the night. It was the love and support from these amazing people that made the event a success" said Sophie.
"Sophie is amazing. The spirit and strength that she has in helping others is inspiring. She's an incredible woman" praised Dreams2Live4 CEO, Louise Mahoney.
"We are honoured that Sophie chose to support Dreams2Live4. We make dreams come true for adults living with metastatic cancer, meaning any cancer that has spread, aggressive brain cancer, relapsed lymphoma and relapsed leukaemia. These are all life limiting cancers. We help patient's dreams come true every 48 hours with more than 450 referrals a year" stated Louise.
With the afternoon sun shining, there were lots of stories shared about Craig and Frances and the impact they had on so many people's lives. The rusty ute bar, a project that began with Craig's vision, served cold drinks whilst the dunking machine gave people an opportunity to raise money and have a laugh.
Sophie and the team plan to continue raising funds for Dreams2Live4 with different projects, after setting the goal to raise $20,000 this year. This will include an Outback Rally in July, starting in Mulgoa.
For more information, visit Craig's Bucket List on Facebook at https://www.facebook.com/craigsbucketlist or to donate at www.gofundme.com/craigs-bucket-list. To learn more about Dreams2Live4 and the life changing work that they do, visit www.dreams2live4.org.au.