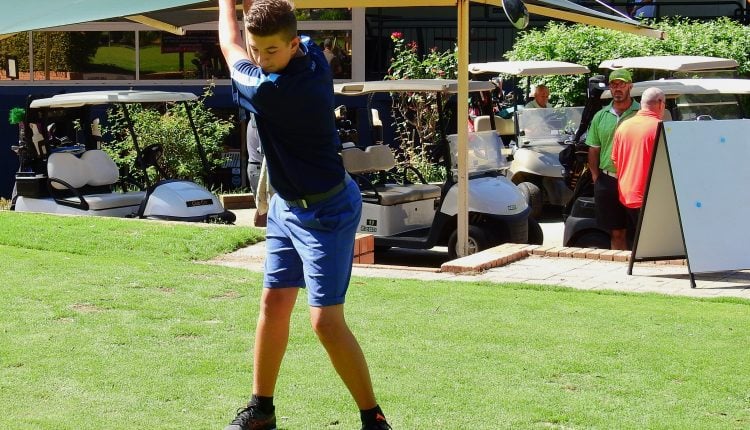 Carruthers Superb at Harvey Norman Week of Golf
Thirteen-year old Leonay GC Junior Pennants representative and Jordan Springs resident Coby Carruthers has finished runner-up in his age group in the Jack Newton Junior Golf Foundation-sanctioned 'Harvey Norman Week of Golf'.
Played over 5th-7th January at five prestigious courses in the Sydney Metropolitan Area (North Ryde, Pennant Hills, Avondale, Cumberland and Muirfield), the tournament attracted one hundred of the State's top juniors.
Carruthers finished in a tie for first in the 13 Years age group with Castle Hill junior Ryan Fletcher, then lost to Fletcher in a six-hole playoff to finish as runner-up.
Carruthers shot rounds of 75, 79, 78, 84 and 77 over the five days, whilst Fletcher shot 82, 75, 81, 75 and 80 – both players finishing on 393.
Carruthers was obviously disappointed not to claim the Age Group title but said "I went down (against Fletcher) but I learnt a valuable lesson and that is to stick in there and fight and anything is possible".
"Thanks to my Mum and Dad who took me (to the tournament games) and guided me through all the way".
Carruthers finished in 16th position overall.
Penrith GC was represented by Blake Murray (tied for 15th) and Michael Organ (9th) in the 16+ Age group, along with Brent Gadd (12th) in the 10 Years group.
Breaking News
In other golf news, three local juniors have been selected to the 2019 Western Sydney Academy of Sport Golf Program. The three players are Coby Carruthers (Leonay GC), Blake Murray and Michael Organ (Penrith GC).