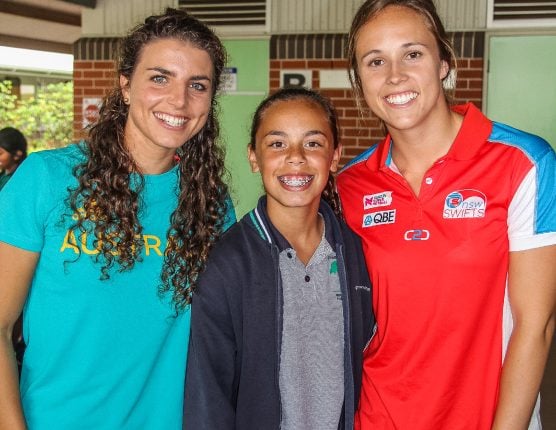 Ropes Crossing Public School Launch Sport House Names
The 775 students of Ropes Crossing Public School recently celebrated the Launch Day of their Core Values and the Sport House Names, which was held on Wednesday 7th November 2018.
Amidst learning about and celebrating their values of Safe, Responsible, Respectful, Excellent Learners – the students have been busily preparing to welcome Western Sydney sporting stars to the school to officially name the Sport Houses after them.
Australian Diamond and current Sydney Swifts Netball Player Paige Hadley visited the school and spoke to the students about the skill-level, work and challenges being a professional athlete and team member and what studying means to her. The students in the red Hadley House were thrilled to meet her as she explained she loves being the 'red house' as the Sydney Swifts are red to match the Swans AFL team.
Current World Champion in both C1 and K1 Canoe Slalom discipline at the recent Rio World Event, Jessica Fox visited and described how honoured and thrilled she felt to have a Sport House at a local school named after her. She hopes that will encourage more young people to participate and try canoe slalom, especially considering the International Centre is located here in Western Sydney at the International Regatta Centre.
The blue house is named after her to represent the water she glides on.
The community were amazed that Australian Test Cricketer and top batsman Usman Khawaja donated a signed cricket bat and posted on his social media a lovely message to the students outlining how thrilled he was with the honour of being the Yellow Khawaja House.
Wallaby and mentor for HeadSpace, Kurtley Beale was also honoured with the inauguration of the Green Beale House. His niece Lahnia in Year 6 said "I am looking forward to seeing my Uncle Kurtley visit our school once his commitments with the Wallabies finish".
The war cries developed and unleashed on the prestigious day were written by the talented Mrs Garnon, who also teaches Year 1 at Ropes Crossing Public School. The students have been busily practising their war cries to show the community their passion towards their sport houses.
^ (L-R) Australian canoe slalom athlete Jessica Fox, Ropes Crossing Public School student Lahnia and Australian netball athlete Paige Hadley | Image: Michelle Smith