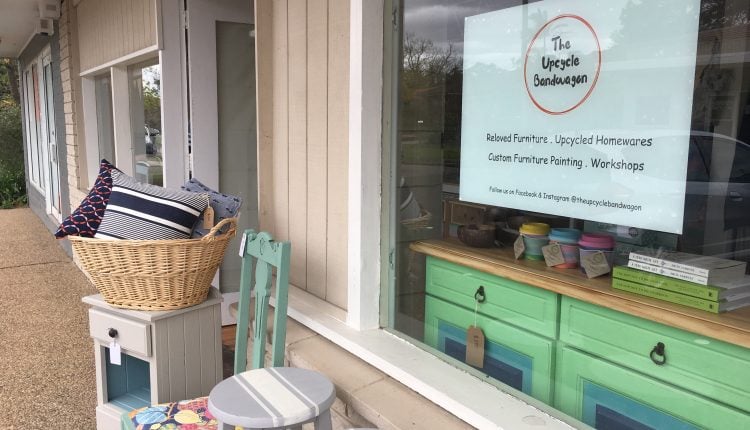 Ever wondered what happens to furniture and homewares once their given a new lease on life? The Upcycle Bandwagon opened its doors at the foot of the Blue Mountains last month and showcases an amazing display of upcycled, secondhand and reloved products.
Talented local owner Stacey Alexander first created The Upcycle Bandwagon in 2014. Whilst she was on maternity leave and having just bought her first home with her partner, she realised that being on one income meant furnishing their home on a budget. She began looking at secondhand as an option and researching furniture painting which lead to the birth of the business.
"Since then, my business grew slowly, and I began doing custom furniture painting (working out of my garage) and making my own range of upcycled homewares. Now I have the shop, I have rolled them all into one business selling reloved furniture, upcycled homewares and a small select range of reusable/zero waste products. I still offer my custom furniture painting service and have teamed up with some local artists and crafters to run workshops starting very soon" Stacey beamed.
Living in the Blue Mountains, Stacey wanted to stay local and work during school hours as she still needs to be a mum before and after school. "I feel Blaxland is growing and the more local businesses in the area, the better for the community. I love living in the Blue Mountains. You feel like part of a community. Coming from a small country town, but starting my working life in the city, I get the best of both worlds here" she said.
Stacey's short-term goals are to get people to consider buying upcycled, secondhand and reloved. This includes looking at what they have in their homes already and looking at upcycling before buying new. Long term, she would love the shop to be a place known to locals, where they can come and buy gorgeous pieces of furniture, participate in a workshop and even do their Christmas shopping.
Pop into The Upcycle Bandwagon at 72B Murphy Street in Blaxland.
The Upcycle Bandwagon | Image: Stacey Alexander