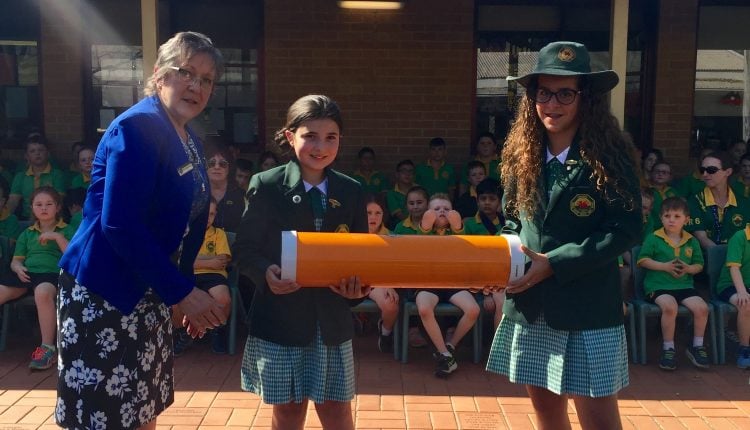 Llandilo's Moment in Time
Llandilo Public School recently hosted 360 students past and present, family, friends and guests at a special assembly where the time capsule from their 150th Birthday Celebrations from 2016 was laid in the school's new garden bed.
School Captains Stephanie Galea and Catherine Sultana were joined by Principal Deborah Getley, who placed the time capsule in the garden, to be opened by future generations in 50 years' time in 2066, which would mark the local school's 200th Birthday.
"This time capsule is from an important moment in time for Llandilo Public School. We hope that those students and teachers who open this have just as much a wonderful time as the students and teachers of now had putting it together" said Deborah Getley, School Principal.
The day's assembly started with a special performance from the school choir, who sang 'Sing You Brave People', a song written by a local teacher. School Prefect Skylah McBurney gave an emotional speech about what it means to her about being a student. Skylah is now the 5th generation of her family to have attended Llandilo Public School.
The time capsule was filled with memorabilia that was significant to 2016 and the educational landscape then. There were letters, photographs, toys and mementos and much of the contents were provided by each class of students at the school that year.
"What is still important all these years later is the role that the school plays in the local community. This hasn't changed in 150 years" said Deb Summerhayes, Director Educational Leadership from the NSW Department of Education.
For David Eddy, who was a student there from 1959 to 1961, the occasion was one that brought back great joy that he hadn't felt since he was a child. "My memories of the school are like yesterday. This school has the same feeling, which is a community feeling. There may have only been two wooden buildings back then, but the students of today are just as lucky as I was to attend Llandilo Public School" he said.