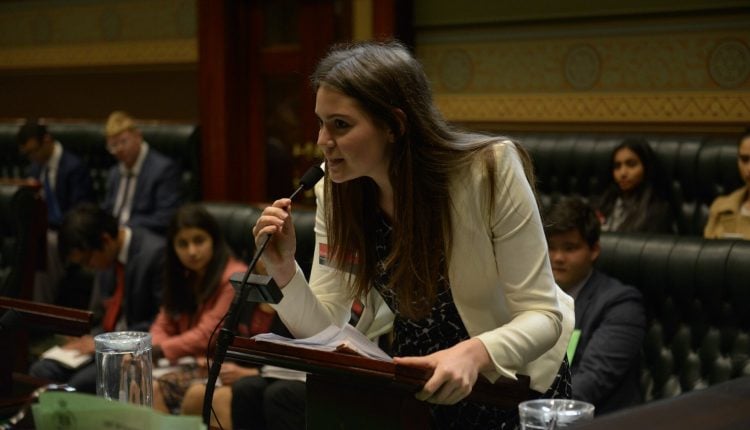 Belle Wins NSW Youth Parliamentarian of 2018
St. Mary's Senior High School student and Leonay resident, Belle Powell has been awarded the NSW Youth Parliamentarian of 2018. 
16-year-old Belle was selected to participate in the YMCA NSW Youth Parliament, which is an empowerment and advocacy program that provides a platform for young people to have their voices heard through legislative debate and decision making. 
She was appointed to represent her electorate as the Honourable Member for Penrith and was elected as the Minister for Women's Affairs. "I worked alongside a passionate team of inspiring young women to create a bill focused on the prevention of Domestic Violence in NSW" said Powell. 
The bill was argued by her and her team at Parliament House in Sydney and passed! It will now go to the government for assessment for the future. 
"We want to grow up and raise our children in an Australia where a woman is not hospitalised every 3 hours due to Domestic Violence" said Belle. "We felt as though our youth voice could have a strong influence. If we can tap into the root cause at an education level, we could be able to change the thinking of children, who will grow up to be respectful, informed adults". 
Belle also said of her experience, "youth parliament gave me the freedom to advocate for issues I felt passionately about, in an encouraging atmosphere with like-minded peers. It was a wonderful opportunity to be able to be able to learn about government processes". 
Angus Lonergan, the Youth Empowerment & Inclusion Coordinator at YMCA NSW, said, "Belle was not only a fantastic speaker on the floor of Parliament, active contributor to all debates and strong advocate for the issues she is passionate about, but also very supportive and encouraging to other participants. She showed great leadership while upholding the ethos of Youth Parliament as an advocacy and personal development program". 
Since its beginning in 2002, over half a dozen pieces of YMCA NSW Youth Parliament youth legislation have been passed into NSW Law, including the recent Domestic Violence Disclosure Scheme. Hundreds of young people, from every electorate, have had their say in shaping the policy framework of NSW Parliament. 
Lonergan added that Belle's award "was very well deserved and she has an incredible future of advocacy ahead of her!" 
Article by Lisa Finn-Powell.