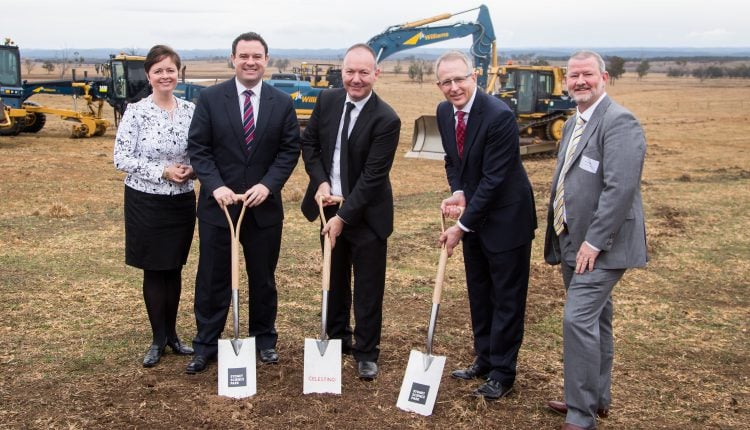 A Monumental Milestone: First Sod Turned at Sydney Science Park
The transformation into a hub for research, technology and innovation received a major boost recently as the first sod was turned at the Sydney Science Park site in Luddenham. 
Penrith Mayor John Thain said the landmark event will be remembered as a milestone in our growth and development. 
"The Sydney Science Park is exactly the kind of development we need to build a strong local economy with a range of innovative and accessible jobs and high-quality education opportunities" said Cr Thain. 
"Penrith is rapidly emerging as the innovation juggernaut of Western Sydney and the development of Sydney Science Park further cements our place as a leading centre for research, education, jobs and opportunity. 
The Science Park will attract the world's leading scientific professionals and organisations to Western Sydney and be a catalyst for more local jobs and investment in Penrith. 
Potential linkages between the Science Park and work undertaken within The Quarter, Penrith's award-winning health and education precinct, are also clear opportunities and an exciting prospect for researchers, educators and students from across the region" Cr Thain said. 
Once complete, the Science Park, being developed by Celestino, will create 12,000 knowledge-based jobs and be home to more than 10,000 residents. It will also cater to more than 10,000 students, including those from Sydney's first dedicated STEM school. 
Luddenham provides the perfect location for the Science Park, where it will benefit from significant government investment in the region's infrastructure; vital transport connections including the North South Rail Link and major road upgrades; close proximity to the new Western Sydney Airport; and the vibrant Penrith City Centre. 
Cr Thain said Council recognised the value of Sydney Science Park to the region from the beginning; a development with a vision that mirrors the aspirations of the community.  
"It exemplifies our New West thinking, our attitude that in Penrith – anything is possible. We are a place of limitless opportunities, a thriving city with the space, the people and the vision to make things happen" said Cr Thain. 
"We're excited to be working with partners to realise our goal of delivering up to 55,000 local jobs by 2031, and the Science Park is an example of this in action. More local jobs and more opportunities for world-class education right on our doorstep. 
"I'd like to commend Celestino's vision for the Science Park and the State and Federal government for supporting this game changing development.  
"This "city of science" will be truly innovative and I'm looking forward to seeing Celestino's vision become a reality" Cr Thain said.