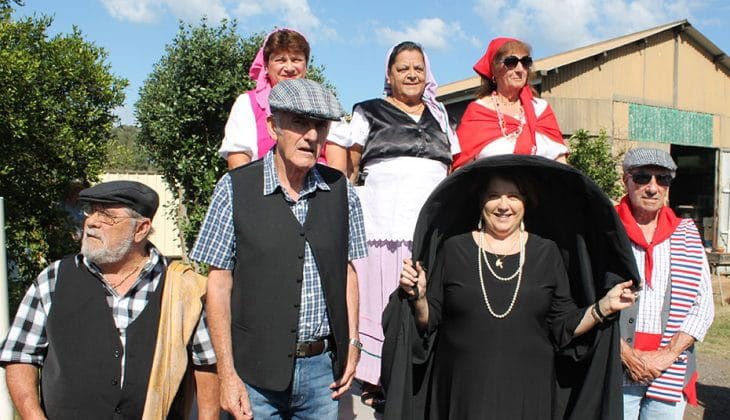 'The GeriActivists' Filmed in Llandilo
The Llandilo Maltese Cultural Association (MCA) has participated in a unique film project called The GeriActivists. The Blue Mountains and Adelaide based creative team of 'illuminart', led by creative producer David Ryan, worked closely with the local community. They asked Llandilo Maltese seniors to imagine their community, 50 years in the future, challenging them to envision life in 2068.  
Throughout the process the greater questions loomed, 'How much do governments or developers consider the sociocultural impacts of the new suburbs they're mapping? How can we compel them to consider the pre-existing cultural character of a place and respond to the needs of sustainable development?' 
The idea was to engage the seniors in a brainstorming discourse where they were tasked with the sobering job of considering what will become of their 'heirloom farms' and what 'challenges lie ahead for their children's children's, children'. A daunting task for anyone, but Ryan continued to remind them of their 'strengths of legacy and heritage'. 
The group was involved in the planning, writing and recording of a new song with the voices of the MCA choir singing acapella. They then gathered together at the Psaila family farm and shot a Virtual Reality short film using advanced 360 film technology.  
The GeriActivists project is funded by The Australia Council for the Arts and Create NSW. They hope to have it ready for viewing by Christmas this year, when the immersive artworks will be displayed at community events and libraries in Penrith and St Marys. The virtual reality performances will also be viewable on-line with a VR headset. 
Ryan encourages other communities to get involved. For further details on the project, check out their website https://illuminart.com.au/project/thegeriactivists/ or contact david@illuminart.com.au. 
Article: Lisa Finn-Powell, derived in part from a press release written by Roz Chia.