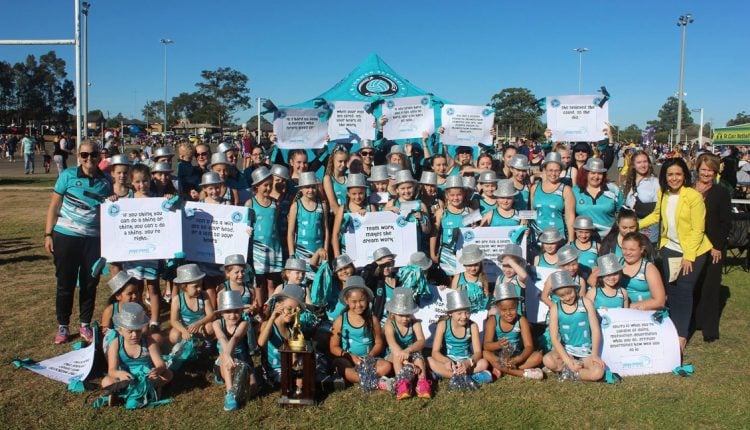 Jordan Springs Netball Club have started their second season on a high, after being named the Penrith District Netball Association (PDNA) March Past Winners for 2018 at the Jamison Park Netball Complex in Penrith last month. 
"March Past this year was amazing! We had a great turnout of players, coaches and umpires to march and represent our club. This year, we asked all teams to come up with an inspirational sports quote that we could display while marching" said Michelle Barnes, President of Jordan Springs Netball Club. 
"Thank you to all teams for their contribution and to Bek Cardozo for putting together the signs and making them look so amazing. Our Marchers looked fantastic, and the judges thought so too by declaring us the PDNA March Past Winners for 2018. A great achievement for only our second season" she added. 
The local club also had a surprise guest trainer, in the form of NSW Swifts GA Sophie Garbin. Garbin, who was a member of last year's Australian Under 21 squad, trained the 15A Jivers team. This was an amazing opportunity and experience for the girls that was organised by their coach Kathy. 
An increase of 5 new teams from last year has seen the club secure more coaches and umpires. This has already seen an improvement in players and teams, with most teams securing wins in the first three weeks of competition. No doubt with continued improvement, they will see many more. 
Under the expert guidance of Rebecca and Gail, their umpiring group are well on their way to achieving their goals too. This should see several of their umpires attain their district and even national badges this year.