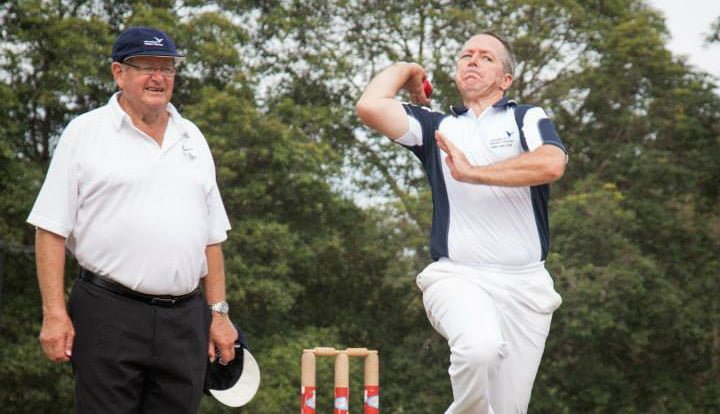 Emu Plains Cricket Club recently celebrated an amazing milestone, with club member and Treasurer Jim Micsko playing his 400th game in the Nepean District Cricket Association (NDCA). 
Jim began playing cricket in the Under 9's in the 1979/1980 season, almost 40 years ago. He played junior cricket and 10 years of senior cricket with Penrith RSL, followed by 7 seasons for Allround Cricket and Sport before joining Emu Plains Cricket Club in 2004. Jim has also devoted much of his time to the administration side of local cricket, having been a part of the Nepean District Cricket Association Management Committee since the early 2000's and Treasurer for the last 14 seasons. 
"Scoring runs and taking wickets are nice personal achievements but the main highlights for me have been the recent premiership wins at Emu Plains CC where I've been fortunate enough to play with an excellent group of like-minded men (some young but mostly older guys) where we really enjoy each other's company each weekend. That team success and seeing your team mates do well is more important to me than any personal highlights" said Jim. 
Whilst playing for Emu Plains, Jim has toured with the local club overseas to play cricket in Hawaii against the Honolulu and Maui Cricket Clubs. Bowling to West Indies legend Brian Lara in a charity match also counts as a high point in his impressive career. 
As a member of the Nepean District Cricket Association Management Committee, Jim has been able to assist in giving back to the sport that has given him so much enjoyment over the years. "One of our goals is to improve facilities for players across the District. I'm pleased that we've been able to fund some major projects like cricket nets rebuilds and providing sun shelters to the majority of the grounds in the District" he said. 
Jim's role within the Management Committee of Emu Plains Cricket Club (currently as Treasurer) has seen him assist in playing opportunities for all the players, as well establishing grassroots programs such as Milo T20 Blast and Milo In2Cricket programs for the next generation of young cricketers. One such player is Jim's son Dane, who is a member of the Under 10Red side at the club. 
For any cricketers out there, who one day may want to follow in Jim's footsteps, he has this advice, "Just have fun. Enjoy the time with your mates, try your best, train hard, celebrate your successes and always play the game in the right spirit. Not everyone can play for Australia, but I encourage all young players to strive to play at the highest level if that's what they want to do".