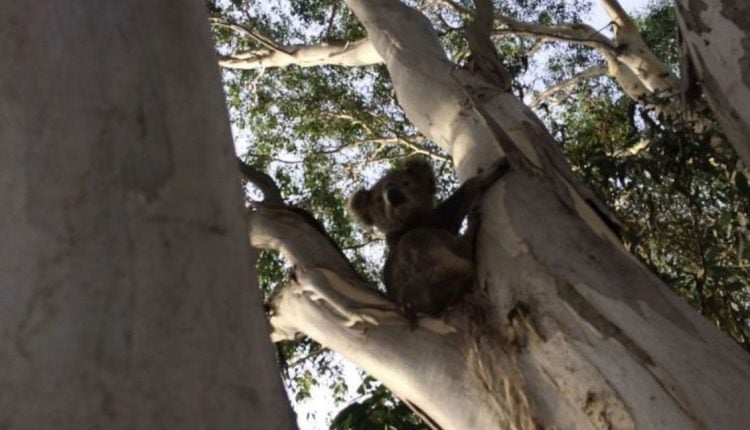 First Ever Public Koala Sighting in Silverdale!
Local residents had the rare opportunity of witnessing a young male koala in Silverdale last month. 
In recent times, the community had heard of strange grunting noises, which they originally thought may have been an injured kangaroo's, but soon realised the true source of the strange sounds! 
Resident, Michelle Allen, had been keeping a close eye on the koala, whose existence was brought to my attention on the 15th of February. Michelle says there has always been talk of koalas in the area and believed there were known colonies on the western side of Warragamba Dam. 
After climbing the tree to assess the health of the koala, I could confirm that it was, in fact, a young male, approximately 2 to 3 years old and weighing roughly 2.5 to 3.5 kgs.  
At first, he hadn't travelled far between the 9th and the 15th of February, but, by the 16th of February he had left, hopefully heading towards the Sydney Catchment area. If anything, his arrival presents more questions than answers. It is expected that his parents would be approximately 10-20 hectares away. 
If residents decide to keep an eye out for the young male koala, caution should be exercised. Please do not approach too closely. If you do approach him, ensure that you do not accidentally encourage him to run up an electricity pole, and if possible, divert him from this path. If you notice him in distress or in a difficult situation, please first call triple 000, and then call myself, Marcus Zorich, from Koala Retreat, as I can work with emergency workers to handle and capture him and ensure that he is placed in a safe zone. 
I am a koala specialist who has decades of experience consulting to zoological bodies and providing koala management training and education as well as sourcing koala food on a professional level. I am based in the Mulgoa region. 
For more information, go to www.koalaretreat.com and join us as we start our weekly blogs on the different ways in koala conservation. For enquiries, contact Marcus on 0419 956723. 
Article and photo submitted by Marcus Zorich of Koala Retreat, Mulgoa.